The best luxury watches speak to something larger than the watch itself, be it in matters of design, a cause that gives back or — best of all — both. IWC is stepping into the arena once again with a new, limited-edition IWC Portofino Chronograph 39 Edition, dubbed the Laureus "Sport for Good."
The sleek and sporty dual chronograph watch marks the 16th time IWC has worked with Laureus — the global sporting honors organization — to celebrate the universal power of sports to inspire, improve and unify the lives of others.https://9976bab568d1ed573efa582bd8ef6f8f.safeframe.googlesyndication.com/safeframe/1-0-38/html/container.html
In its most recent ceremony, hosted digitally from Seville, Spain, NFL legend and IWC Global Brand Ambassador Tom Brady received the Laureus Lifetime Achievement Award. It's also more than likely Brady himself would love the latest watch from IWC.https://www.instagram.com/p/CclQjttr2fb/embed/captioned/?cr=1&v=14&wp=658&rd=https%3A%2F%2Fwww.maxim.com&rp=%2Fstyle%2Fiwc-debuts-limited-edition-portofino-chronograph%2F#%7B%22ci%22%3A0%2C%22os%22%3A2076.5999999996275%7D
Laureus operates in 50 countries globally and supports more than 250 sporting programs worldwide, too. As if that wasn't inspiring enough, the Founding Patron of Laureus was none other than Nelson Mandela himself.https://9976bab568d1ed573efa582bd8ef6f8f.safeframe.googlesyndication.com/safeframe/1-0-38/html/container.html
It's no wonder IWC has supported Laureus through 16 standout watches and corresponding causes.https://9976bab568d1ed573efa582bd8ef6f8f.safeframe.googlesyndication.com/safeframe/1-0-38/html/container.html
The effort goes beyond just your standard (yet meticulous) watchmaking, with a deeper message at play: The caseback is engraved with the winning design from a drawing competition among children enrolled in Laureus sports programs.
15-year-old Jatin Malhan, the youth goalkeeper in Punjab, India's Youth Football Club RurkaKala, developed the unifying winning design, and it's not the only nod to Laureus found on this visually striking timepiece.
The dial itself is done up in Laureus blue, with crisp, clean lines in contrasting white and a nicely textured black leather strap for suitably dressy occasions.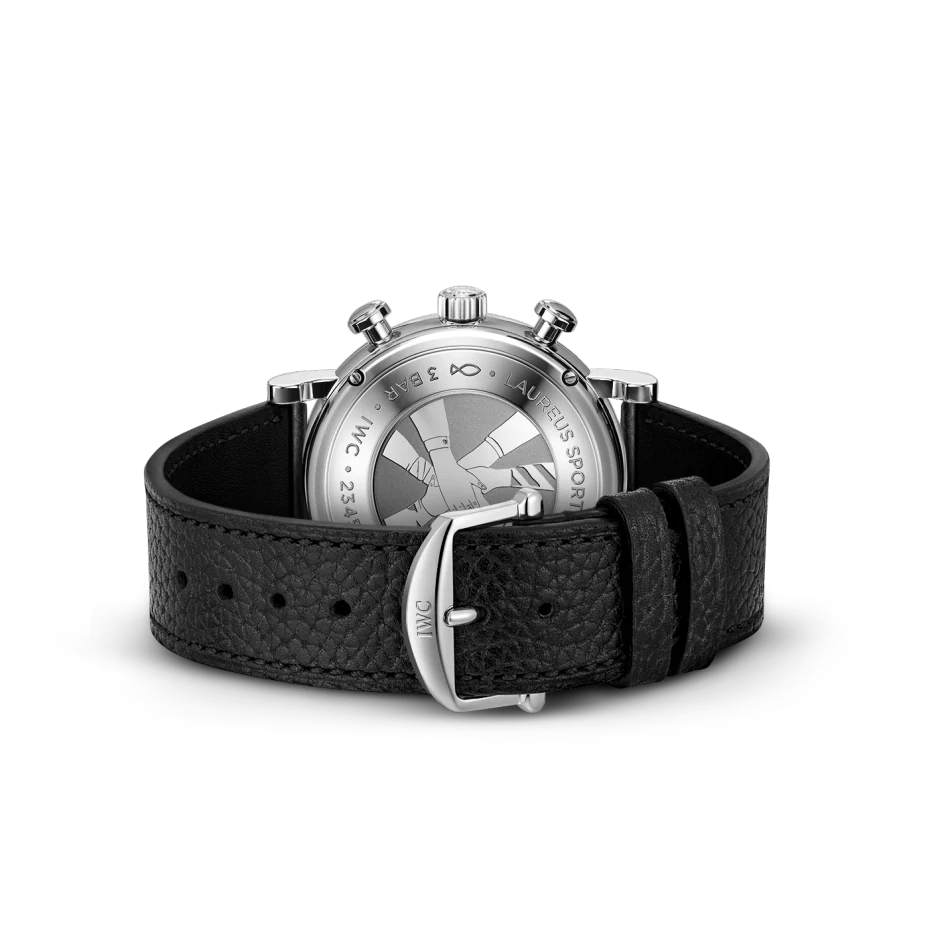 The watch hands, like the watch appliques, are rhodium-plated for added vibrance and durability. The 39mm case diameter is sharp and classic, more than ready for global travel where daily demands range from casual to black-tie.
If you want to support the groundbreaking efforts of both IWC and Laureus to better the world through sport, and if you want to do so through an innovative new timepiece on your wrist, you'll have to act with speed: The latest Portofino Chronograph 39 is limited to 1,000 pieces, priced at $6,700.
Share: