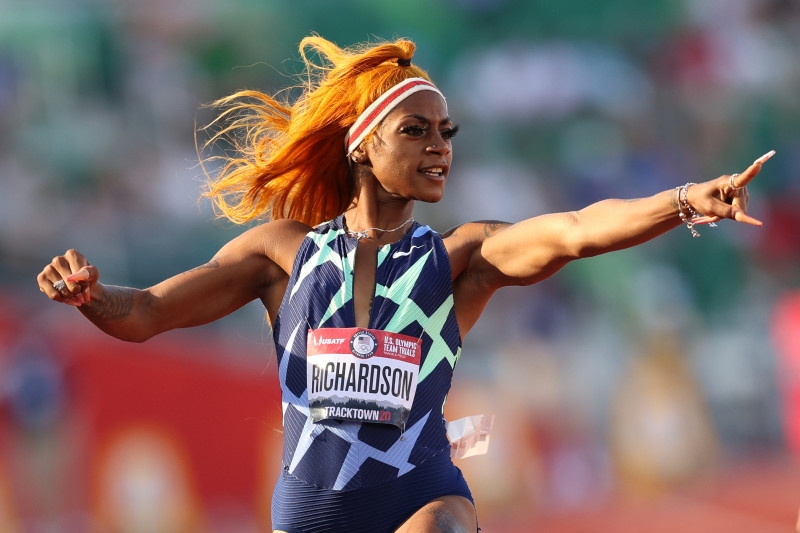 Patrick Smith/Getty Images
The United States Anti-Doping Agency announced Friday that American sprinter Sha'Carri Richardson, who qualified for the Tokyo Olympics in the women's 100 meters before testing positive for marijuana in a post-race drug test, has accepted a one-month ban.
"The rules are clear, but this is heartbreaking on many levels; hopefully, her acceptance of responsibility and apology will be an important example to us all that we can successfully overcome our regrettable decisions, despite the costly consequences of this one to her," USADA CEO Travis Tygart said.
The ban makes Richardson ineligible for the 100 meters, but she would be able to run in the 4×100-meter relay. Her suspension will have expired by the day of the race, per Adam Kilgore of the Washington Post.
More on Sha'Carri Richardson
by Mitchell Peters | Jul 3, 2021 | 12:44 PM
Music stars are showing their support for sprinter Sha'Carri Richardson, who was suspended from the U.S. Olympic team after testing positive for THC. 

Musicians are standing with Sha'Carri Richardson.
On Friday (July 2), the 21-year-old sprinter, who won the women's 100-meter dash in June, was suspended from the U.S. Olympic team after testing positive for THC, a chemical found in marijuana.
Following news of her 30-day suspension, music stars like Drake, Dua Lipa and Gabrielle Union took to social media to show their support for Richardson.
"They know she woulda ATE," Drake captioned a photo of the star athlete on his Instagram Story.
Lipa also expressed her displeasure with the U.S. Anti-Doping Agency's (USADA) decision to suspend Richardson after the failed drug test.
"Let her run!! This is stupid," the "Levitating" singer wrote on her Instagram Story.
Union shared a similar sentiment, tweeting, "Weed is great for many a thing but running faster isn't one of them. LET HER RUN!!!"
Richardson's suspension will prevent her from competing in the 100-meter race at the Tokyo Olympics later this month.
As rumors swirled about her suspension on Thursday, the sprinter put out a tweet, simply stating, "I am human." The following morning, she appeared on NBC's Today to issue an apology and offer an explanation for her marijuana use.
"I know what I did. I know what I'm supposed to do. I know what I'm allowed not to do, and I still made that decision," Richardson said, adding that she used marijuana to help cope with her mother's death.